Compounding Medications For the Patient and Healthcare Professional
Central Iowa Compounding serves both the patient and healthcare professional. We care for you, about your and with you. We are a compounding pharmacy for children, adults and pets. We specialize in bio-identical hormone replacement therapy (BHRT), sterile preparations, pain management and hormonal balance. We have a variety of dosage forms to appeal to children, adults, the elderly and pets.
Central Iowa Compounding was the 1st PCAB® Accredited Compounding Pharmacy for sterile and non-sterile in the state of Iowa!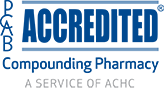 PCAB® was created by the leading organizations in the pharmacy profession for the purpose of recognizing those compounding pharmacies that have demonstrated their outstanding commitment to quality. Currently, there are about 100 PCAB® Accredited pharmacies nationally.